The BT Young Scientist & Technology Exhibition took place Wednesday 9th to Saturday 12th January 2013, bringing together an array of students, teachers, education experts and people with an interest in science and innovation in the RDS arena, Dublin. This year marks the 49th BT Young Scientist & Technology Exhibition which has grown into an established event with schools and students participating from every corner of the country.
The category we are most interested in at SAMI, is of course technology. An innovative medical solution was developed by the overall winners of the senior group technology category winners, sixth year students Paula Faulkner, Orla Dunne and Anna Fitzpatrick from Scoil Chonglais, Blatinglas, Co. Wicklow called "I.C.E – Scan Me".
The Leaving Cert students combined their experience with existing medical methodology with technology which they had previously used. After discovering that patients with an illness that paramedics need to be aware of wear bracelets to notify other of their affliction, the girls questioned the use that technology could have in this process so they created a website and a mobile application that paramedics could access via a custom generated QR code which would be worn on a bracelet by the patient.
Watch the video below to see the girls talk about their winning project and their plans for the future: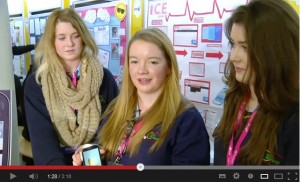 So we had to ask, what are the benefits for pupils in participating in the BT Young Scientist and Technology Exhibition and other such event?
Fuels student's imagination
Endorses innovation and creativity
Fosters an environment of ambition and achievement
Gives student's the opportunity to meet other technology-minded people
Encourages students to learn using methods and tools outside of the stereotypical classroom
It's great for student's CV!
At SAMI, we are dedicated to developing a culture of innovation and technology in young people using education software to enhance pupil's learning experience. That is why we have been working hard to develop Edvance and ExamTime as well as providing software to students via Software4Students and our school and charity licensing division SAMI.
Make sure to take a look at the official BT Young Scientist & Technology Exhibition 2013 website to find out more about this year's winners and other resources for students and teachers.